Welcome to The Trainer network (TNW) - India's #1 website with experienced Trainers & Coaches listed,
is all set to Fulfill your Training Requirements.
If you are from Human Resources and/or Learning & Development, you have reached the right place.
Just Register yourself here
At The Trainer Network (TNW) , we believe in the power of organization.
We make trainers and coaches meet those who need them.
Browse through the BEST trainers and coaches from every possible field to fulfill all your training needs.
And if you are a trainer or a coach with a vision to make a change, we will shine the spotlight on you.
A Glimpse of what we have inside our website..
This is Archana Shastry. I am a passionate educationist, love to contribute positively to the lives of those I connect with and enjoy studying different shades of the Human personality &continue to be in Awe of it. Dale Carnegie Certified. Genuineness in every moment is my personal virtue! My professional summary:- • An accomplished and seasoned Learning & Development professional with a forte in OD and Talent involved in content designing and delivery of training sessions/workshops on soft skills, competency mapping, PMS, engagement, etc. • 21+ years of multifunctional experience in Learning & Development, & Education. • Proven track record of a strong understanding of the business requirement; ensures a logical flow in the content. • Strong interpersonal and employee-relations skills with the ability to work closely with business teams and people from diverse backgrounds, cultures and professional levels. • Proven track record of building & retaining highly motivated teams; worked extensively across the spectrum-in metro, semi-urban and rural markets

Read more...
Some Words of Encouragement for TNW ... Thank You !
TNW provides a great platform!
TNW provides a great platform where organizations who need the services of consultants, coaches,trainers, guest speakers, advisors, master trainers (to train in-house trainers), instructional designers, policy advisors etc can find the right person. I am sure business as well as HR, DE&I and talent management leaders from not only India, but from South Asia as well as the Middle East will appreciate the value that such a platform brings. I'm happy to see the TNW database growing on a daily basis in depth as well as breadth. I'm particularly delighted to see expertise on gender sensitivity, emotional health and workplace bullying/sexual harassment (POSH) prevention. As we move from canned training modules to highly interactive and customized interventions, often in the virtual space, TNW is positioned to play a very meaningful role in matching training/coaching expertise to organizations.
-Independent Consultant, POSH Enabler, DE&I Advisor
Asiya Shervani
Blogs that we Write for You!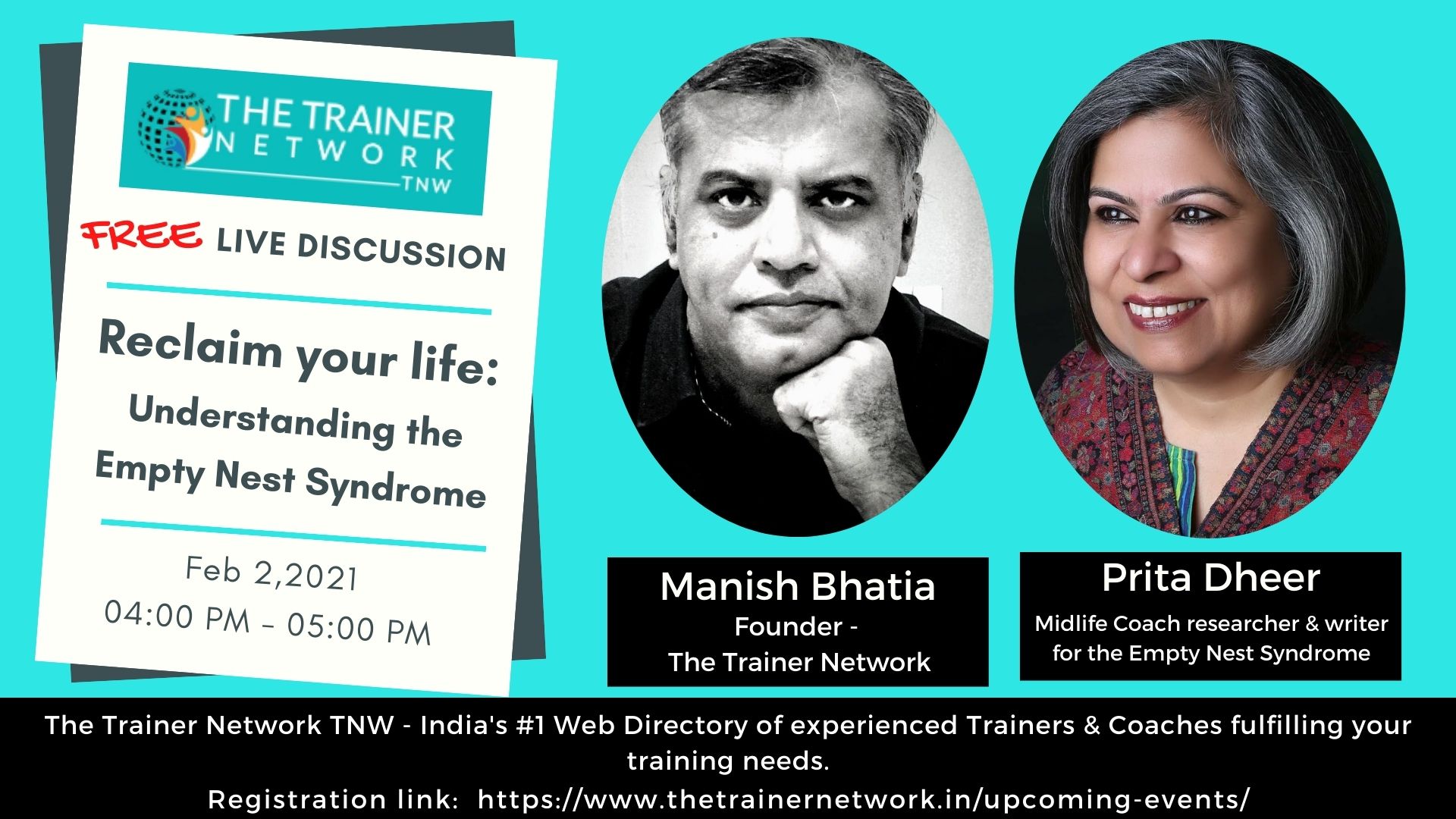 Posted: February 8, 2021
Empty Nest Syndrome isn't a clinical diagnosis but a phenomenon. – Many people experience this in their lifetime, some knowingly and definitely it catches a lot of people unaware. – Have you heard about it before? Do you want to know how it effects certain lives and what needs to be done? We also didn't Read more…
0 comments
Posted: February 6, 2021
Yoga is largely used mind-body intervention in today's world. It is cost-effective and easy to apply for all age groups and socio-economic classes. Ramamani Iyengar Memorial Yoga Institute stated [Ramamani Iyengar Memorial Yoga Institute, 2010], ''Yoga is the union of the body, mind, emotions and intellect''. It offers benefits for mental, emotional and physical health. Read more…
0 comments
Posted: January 31, 2021
Gender Bias can be/should be/is called as a preferential treatment to one gender over the other. Most of the time, it is suggested and not directly expressed – implicit in #nature.So what are the examples of Gender #Bias and how does it originate and does this impact your personal & professional life? To know all Read more…
0 comments
Posted: January 25, 2021
Do you ever find yourself stuck on something unpleasant that happened during your week? Most things may have gone well but your mind keeps going back to that one bad incident. Several studies indicate that there is an asymmetry in how our brain processes positive and negative events. It responds more intensely to negative stimuli. Read more…
0 comments
Posted: January 15, 2021
TNW had a brilliant & insightful conversation with professional Storytellers Shefali Chopra, Meher Gehi & Shraddha Agarwaal, on Jan 12,2021 Before the session we had so many questions in mind to ask them & they did answer to each & every question and the audience was so engaging that they were completely in awe of Read more…
0 comments
Posted: January 11, 2021
TNW conducted the Discussion on Image Consulting – Define NEW YOU ! on January 05,2021 – In conversation with Parul Kaushal & Reba Coelho.The session was executed successfully and the audience found it extremely informative and engaging. 95% of the audience stayed till the end and it was an overwhelming feeling. Incidentally, the concept of Personal Branding is and Read more…
0 comments